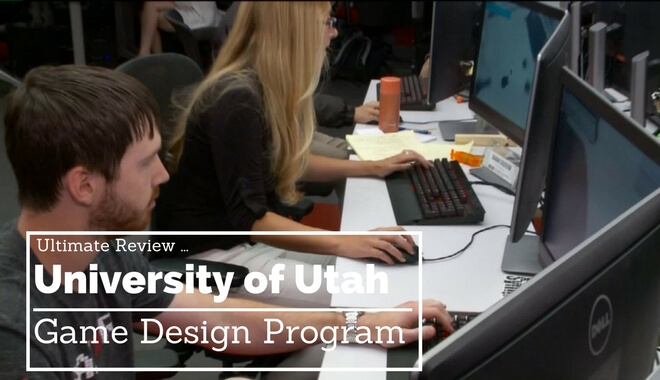 The University of Utah was founded over 165 years ago…But last year was a significant year for aspiring game designers.
The University of Utah received board approval to great a Game Design Degree.
Now, since 2011 The University of Utah has been one of the three best schools for video game design students, according to the Princeton Review for game design programs. Their graduate program has been in the top five schools since 2013.
But last year "The U" announced that they would be offering a game design program that exists autonomously—right now, their game design programs are offered as part of a film degree and a computer science degree.
The Princeton Review
The 2017 Princeton Review rankings have the University of Utah as #3 in the list of the top 50 game design programs. The year prior, the U took 1st place for undergraduate game design programs.
For the top 25 graduate game design programs, U of U received third place (for the second year in a row).
That alone is enough for most prospective game design students to apply to the school.
Alumni Placement and Starting Salary
Alumni from the undergrad and graduate programs go on to find work locally in Utah (many at game design studios). Others travel to California game design hubs. Plenty has found placement with big-name studios, like EA.
As an alumnus, you'll have opportunities at a wide range of game developers. The average starting salary for undergraduates is $67,045. The average salary for alumni coming out of the graduate program is $87,332.
What's the Staff like at the University of Utah?
The staff at the University of Utah appears to be a mix of both industry veterans and career academics.
-Roger Altizer, Jr. co-founded the Entertainment Arts and Engineering Program at the U (you know, the program you're thinking about entering into).
He's also a co-founder of Game Makers Anonymous, which is an indie game co-op. Altizer works with medical games, and he's the Director of Digital Medicine at the Center for Medical Innovation.
It's worth noting that he kicked off his career as a video game tester for Microsoft back in the early 2000s.
-Ryan Bown is an assistant professor in the Game Art and Technical Art programs. He's worked on "half a dozen published games which include EIRE and Disney Infinity."
He primarily teaches in the Unreal Engine, exploring concepts like modeling and texturing.
-Ashley Brown used to teach in the UK, but now she teaches user experience and design at the University of Utah. She also researched topics like emergent gameplay.
-Jon Dean is an industry instructor in game production. This makes sense since he's "produced more than 250 game titles across all major gaming platform [sic] including consoles, handhelds, and mobile."
He's worked as Vice-president and General Manager at Electronic Arts. He served as Executive Producer on plenty of hit games for both EA and EA Sports.
-Joe Olson has worked in the video game industry for more than a decade. He's worked on published games like Epic Mickey, Tak, Tak 2, and Disney Infinity.
And that's just a handful of the faculty driving the learning efforts at the University of Utah in the EAE Program.
There are others who have won awards for their thought-pushing papers on computer and human interaction, others who have won awards for the board games and tabletop RPGs they've created.
The Entertainment Arts and Engineering Program seems to have cultivated a good mix of industry experience and research-based experience.
The Approach to Learning
According to an article from Deseret News, featuring an interview with Robert Kessler, the EAE Program's Executive Director and Founder, The University of Utah "students are immersed in an environment where they need to learn how to interact with all of their project collaborators…artists, engineers, producers, and designers.
[Professors] spend a lot of time on mentoring and coaching students through the challenges of working with a large team."
In addition to the team-based practice, something that closely mimics the real-world of game design, every student is required to publish a game. It doesn't matter if you're in the undergraduate or the graduate program, you don't leave the EAE program without publishing a video game with your team.
Why? Kessler says "When you have a game credit out there, you've got an advantage over everybody else…Now, when [students are] in an interview, they can talk about their experience of actually developing a game rather than answering a question about if they can responsibly handle a role on a game development team."
Undergrad Programs at The University of Utah
There are a number of game design-related undergraduate paths you can choose from at the U.
You can get a Computer Science BS Degree with a Games/EAE emphasis. In order to declare your major, you need to fulfill certain pre-major requisites:
Foundations of Computer Science
Object-Oriented Programming
Algorithm/Data Structures
Calculus I
Calculus II
In order to apply for your full major status, you need at least a C- or better in every class, and a minimum GPA of 3.0.
You'll take general education courses which will include:
Intermediate writing
American Institutions
And then you'll dive into the meat of the CS program, with courses covering:
Discrete Structures
Computer Organization
Software Practice
Algorithms
Computer Systems
Traditional Game Development
Machinima
Serious Game Development
You'll also choose "Area Focus Electives". You'll pick a few elective classes from an area of interest. These areas include:
AI/Analytics
Core/Fundamentals
Human-Centered Computing
Infrastructure
Your studies will culminate in a Capstone project.
You can also get a Computer Science BS Degree with an emphasis solely in Entertainment Arts & Engineering (EAE).
The pre-major requirements and general education classes are very similar. But your major courses will include:
Artificial Intelligence
3D Modelling
Databases
And more. There are also film requirements for this major, which include two courses:
Intro to Video Games
Film Production
The BS in Game Design (The new program debuting in the spring of 2018) has a different set of pre-major requisites:
Survey of Games
Digital Content Creation
Programming for all: Beginning Programming
Programming for all: Extended Applications
The courses you study in your major will look something like this:
Ethics in Games
Traditional Game Development
Alternative Game Development
All game-related programs have a senior project that results in a published game. For the BS in game design, you'll need to meet with an Entertainment Arts & Engineering advisor to plan your course selection. This will depend on your interests as a prospective game designer but could include areas of focus such as:
Game Design
Technical Art
Game Arts
Game Production
"Two Cents" from an EAE Graduate
At the time they wrote this, Redditor GlassesOff was a senior in the undergraduate EAE Program. We're assuming they went on to graduate…
Anyway, the post says
"What it really all comes down to is your work ethic and skill set…With the CS degree, you're going to have a lot of intense work and hard classes, but you'll learn the skills you need in the class to have a good chance at some of the industry jobs.
For the art side, you really have to focus on what you want to do with games. There are so many different areas and skills you can learn, but you really need to hone in on one talent.
The classes will give you a good start with the various areas, but finding your favorite early is important…I feel like I have the potential to get a job in the industry, but it really comes down to your skills and experiences." – GlassesOff
There you have it. The University of Utah's third-place ranking isn't an accident. With the right amount of effort on your part, you can put your time at the U and your education to great use in the game design field.